ESD Fixed PCB Rack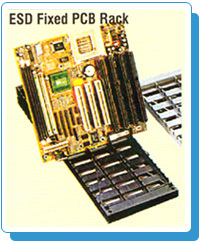 ESD Fixed PCB Rack
Product Specifications
Conductive Polystyrene.

458X140mm
Black Color for conductive.
Product Description
ESD Fixed PCB Rack is offered by our company which is a metal storage device that is usually made of a durable material. This is of great use for storage and industrial purposes and are finding their place in the industrial world. Open type structure of this display furniture enables buyers to view and pick up products easily. ESD Fixed PCB Rack is racks, much like shelves have a wide array of shapes and sizes. Required storage space, necessary load bearing capacity, durable structure, ease of cleaning and shifting are the main reasons of its wide usage. This rack promotes systematic storage of bulk amount of goods within limited space.
Feature
Economical carriers for handling clinched SMD's, Soldered or bare boards of any Size.
Tapered slots to keep PCB's in taper position.
Easy to carry.
Specifications:
Black Colour for conductive. Art No.: APCR1-C
Grey Colour for nonconductive. Art No.: APCR1-N