Mechanical Ultrasonic Cleaning Machine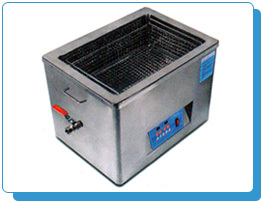 Mechanical Ultrasonic Cleaning Machine
Product Description
Mechanical Ultrasonic Cleaning Machine
Available Tank Sizes from 1.5 ltr. onwords
Application : Electronics / Mechanical / Jewellery / Pharma / Medical /Hotel
Features
Tank material-SS 304 (16G), Tank encloser and Basket-SS 304.
Imported PZT sandwich type bonded at the bottom of the tank.
High frequency built in MOSFET/IGBT based SMPS.
Pulse sweep power for uniform distribution of ultrasonic energy for USC tank.
Timer 0 to 99 minutes digital count down with display
Auto degassing present 5 minutes for ultrasonic tank.
Temperature controller digital display with 60oC settable (optionally up to 80oC)
Power input 230V AC.
Inlet, Drain and over flow pipe with valve provided.
Standard Range

| | | | | |
| --- | --- | --- | --- | --- |
| Model No. | Tank Size (LxWxH) inch | Tank Cap. | Ultrasonic Power | Ultrasonic Freq. |
| SM 35 US | 9x6x4 | 3.5 Ltrs | 100 Watts | 33+3Khz |
| SM 50 US | 8x8x5 | 5 Ltrs | 120 Watts | 33+3Khz |
| SM 65 US | 12x6x6 | 6.5 Ltrs | 150 Watts | 33+3Khz |
| SM 100 US | 12x9x6 | 10 Ltrs | 250 Watts | 33+3Khz |
| SM 140 US (ML) | 21x7x6 | 14 Ltrs | 300 Watts | 33/25+3Khz |
| SM 200 US | 14x12x8 | 20 Ltrs | 400 Watts | 33/25+3Khz |
| SM 200 US (L) | 24x9x6 | 20 Ltrs | 400 Watts | 33/25+3Khz |
| SM 250 US | 16x16x6 | 25 Ltrs | 500 Watts | 33/25+3Khz |
| SM 300 US | 15x15x8 | 30 Ltrs | 600 Watts | 33/25+3Khz |
| SM 500 US | 22x12x12 | 50 Ltrs | 750 Watts | 33/25+3Khz |